FREE - Pick Up & Delivery For Auto Body Repair
For any vehicle within a 150-mile radius.

For any Ultra Advanced Tier Vehicle, No Mile Radius Limit.
Aluminum Auto Body Repair
Greg Coccaro, Jr. explains the blueprinting process.
The use of aluminum in vehicle manufacturing is becoming more prevalent in the luxury car market. The use of aluminum allows car companies to keep the weight of their vehicle down thus enhancing performance and fuel economy without compromising strength and durability in the vehicle's body structure.
The way these vehicles are manufactured is very different from the methods used in steel bodies. Because of this, repair methods also are very difficult.
North State is designated as a Certified Aluminum Structural Repair Facility for the Mercedes-Benz CL Class and we have also completed training and have all the equipment specified by BMW to repair its Aluminum Structured Vehicles.
North State Custom is one of a very select group of repair facilities with the most aluminum repair experience in the industry. Because of this, along with our reputation for quality repair and customer service, Tesla Motors has sought us out and invited us to be part of its Aluminum Certification Program.
North State's Aluminum & Carbon Fiber Repair Clean Room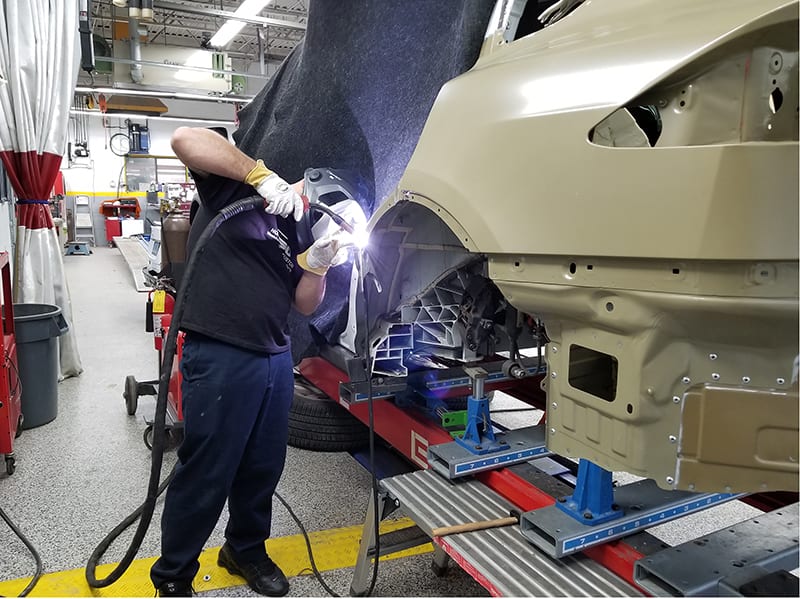 Tesla Model S quarter panel replacement.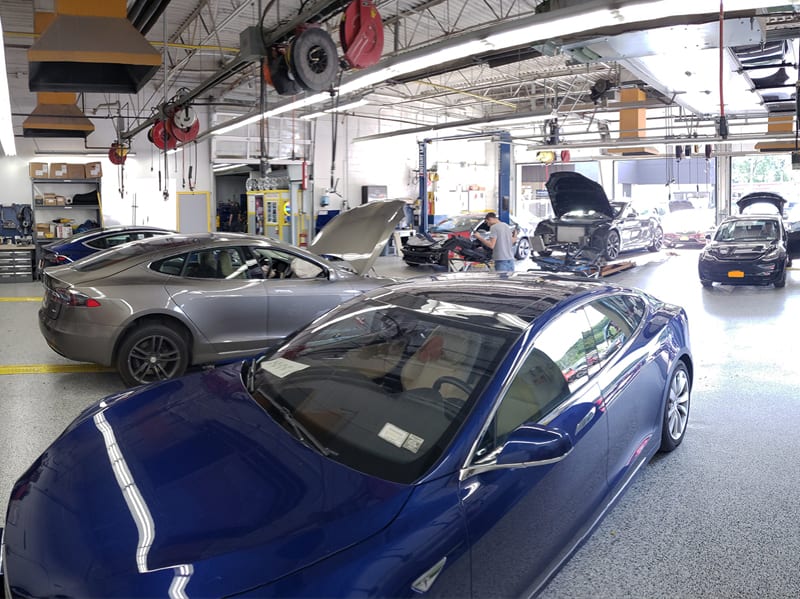 North State's Aluminum & Frame Body Shop filled with Teslas.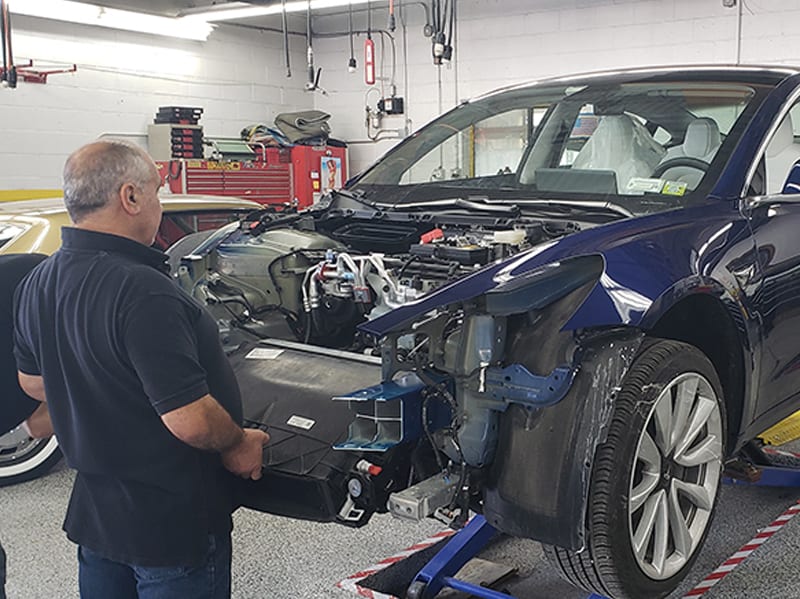 Front end aluminum repair on a Tesla Model 3.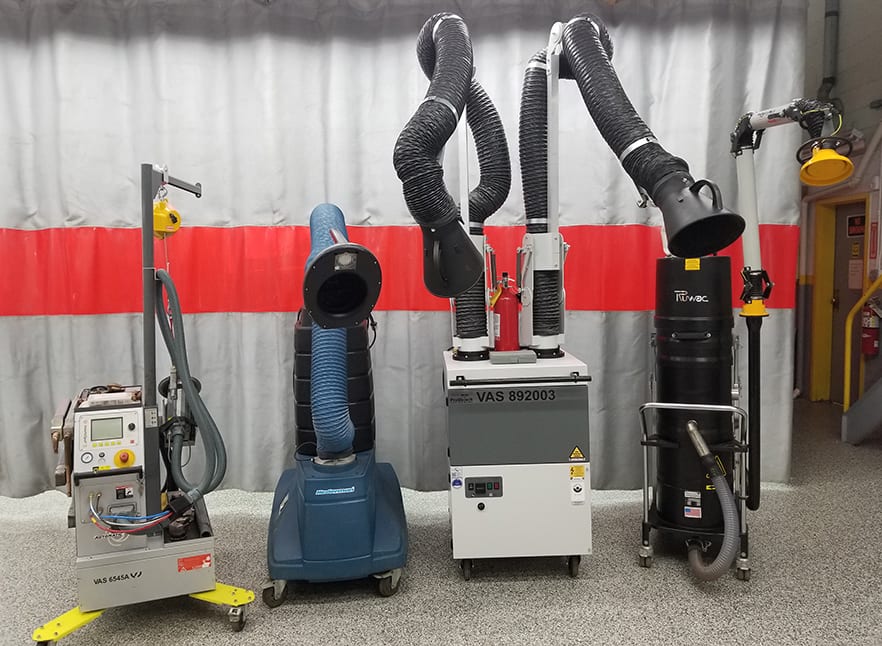 Aluminum Spot Welder, welding fume extractor, welding fume & carbon fiber extractor, welding dust extractor.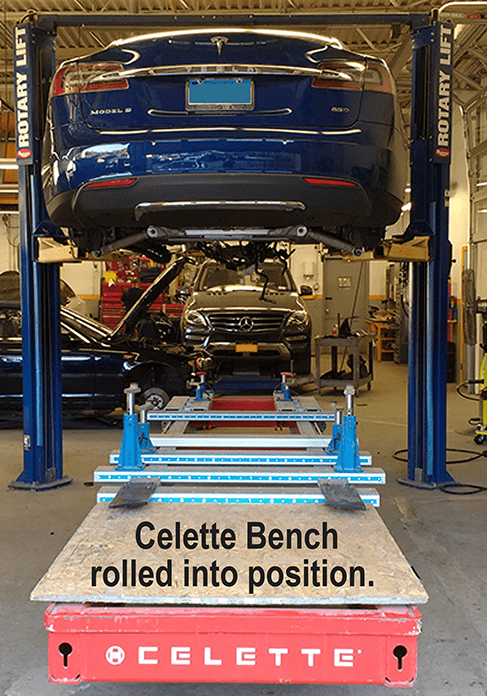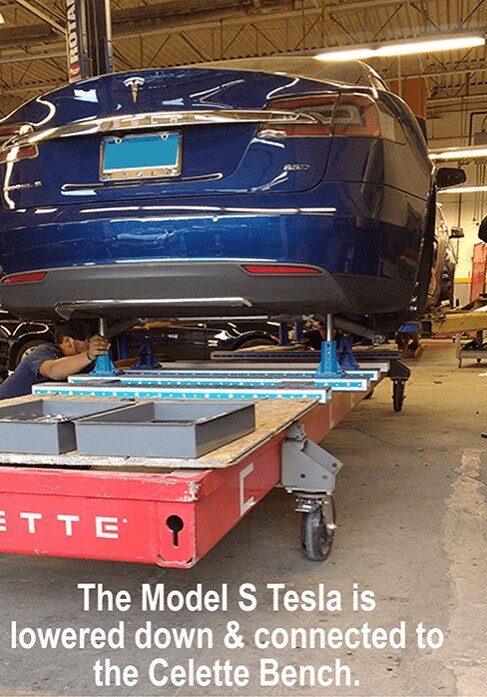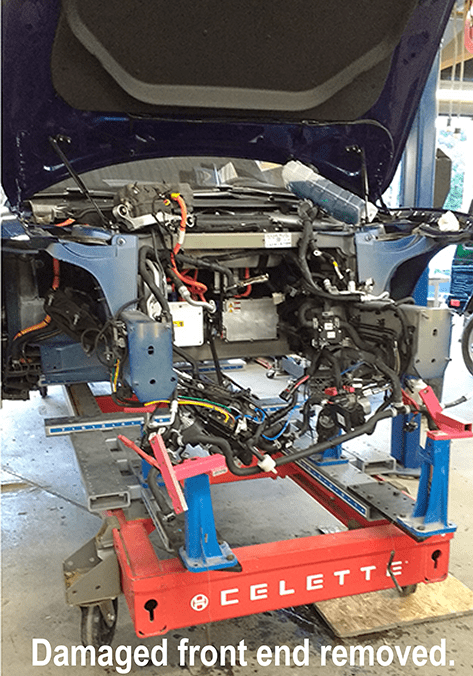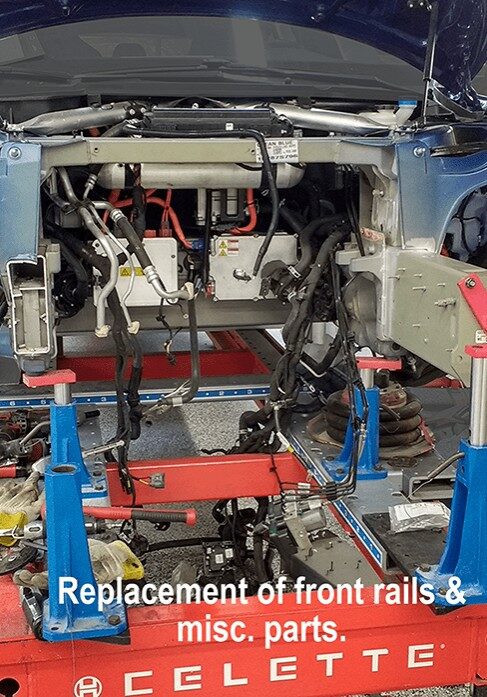 After the battery is removed from a Tesla Model S, the Celette frame bench is positioned under the auto with jigs in place. The auto is lowered down and attached to the jigs and bench. Once attached, the work begins on the damaged front end. First the damaged parts are removed, and then the replacement of the front rails and misc. parts begin.
High Strength Steel Repair
Our Spacious and well organized Bedford Hills, NY frame and body shop is equipped with the latest collision repair technology, including: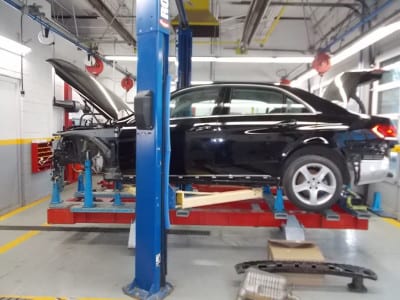 Car-O-Liner frame and unibody alignment machines plus Celette fixture benches recommended by Mercedes Benz, BMW, Volvo, and Jaguar for repairing their vehicles.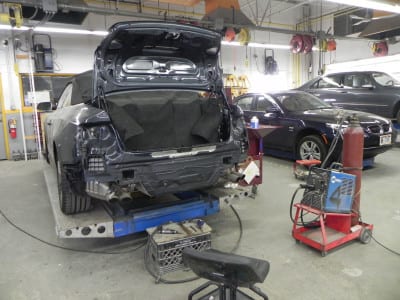 Specialized equipment to handle super high strength alloys such as Boron Steel which is becoming more prevalent in luxury car manufacturing.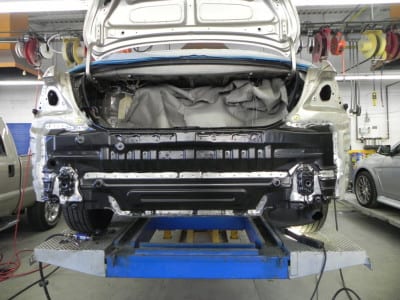 Factory style spot welders that duplicate the welds made when your car was built, both in appearance and strength.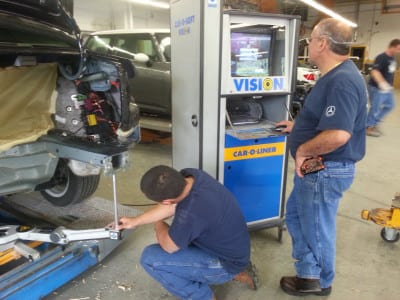 Electronic frame and unibody measuring. This type of equipment allows us to correct any unibody distortion caused in a collision back to factory specifications.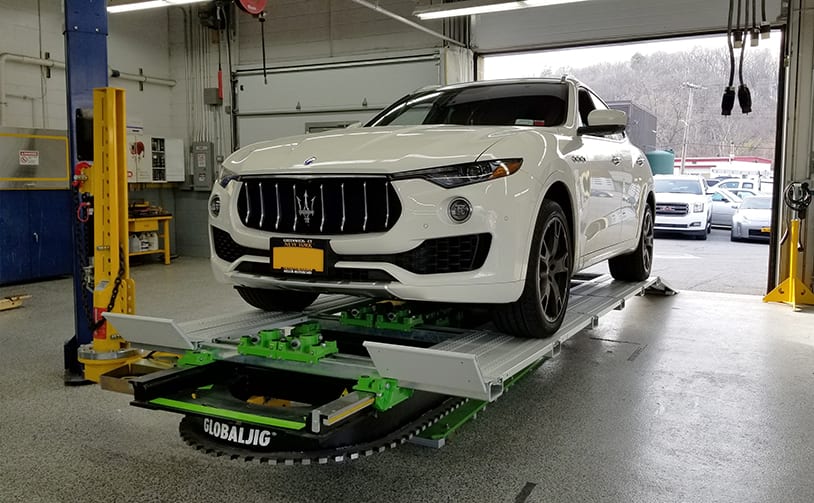 NSC's new Super Rotax by Globaljig. Approved by the following manufacturers: Land Rover, Tesla Motors, Maserati, Jaguar & Aston Martin.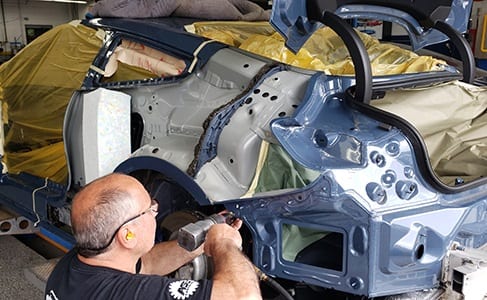 After rough removal of this BMW's damaged quarter panel, our master body tech is removing the remaining edge of the panel.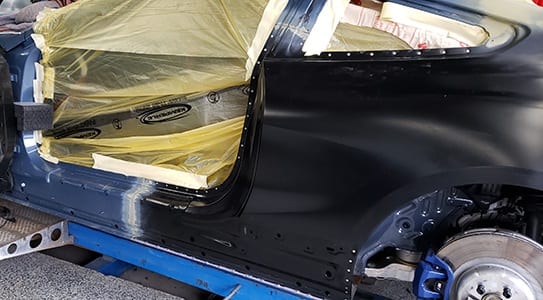 The new quarter panel is glued, riveted, and welded in place per BMW's repair procedures.
Our Auto Body Shop has gone Green in our Paint Shop. We are now spraying a water-based paint product made by Glasurit. Glasurit is an approved paint system for Mercedes-Benz and most other European Vehicles. This paint system reduces the amount of polluting VOC's released into the atmosphere by 35% from conventional paint systems. It is almost identical to the paint color coats used by most car manufacturers today.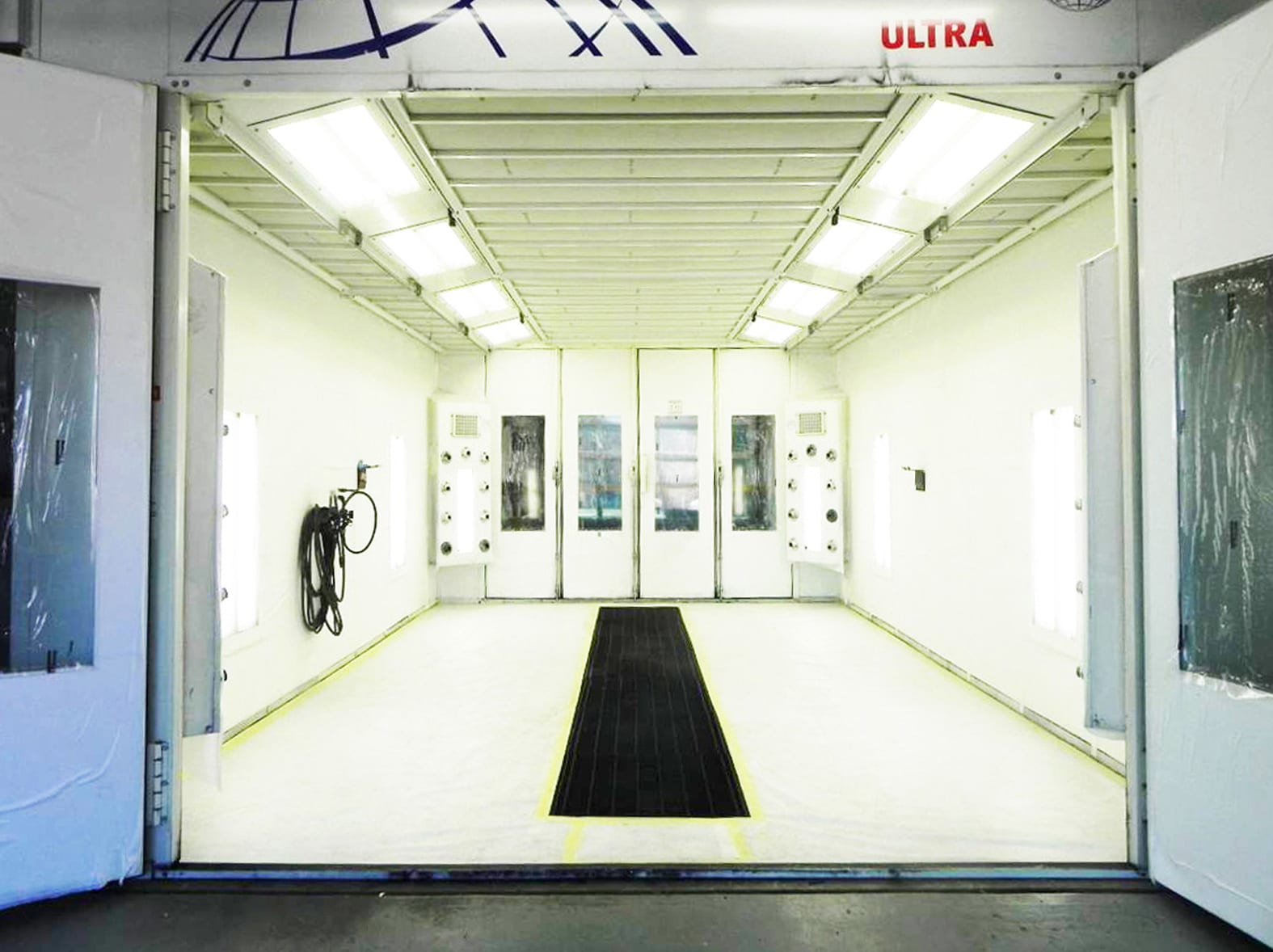 One of two state of the art downdraft paint booths producing guaranteed results.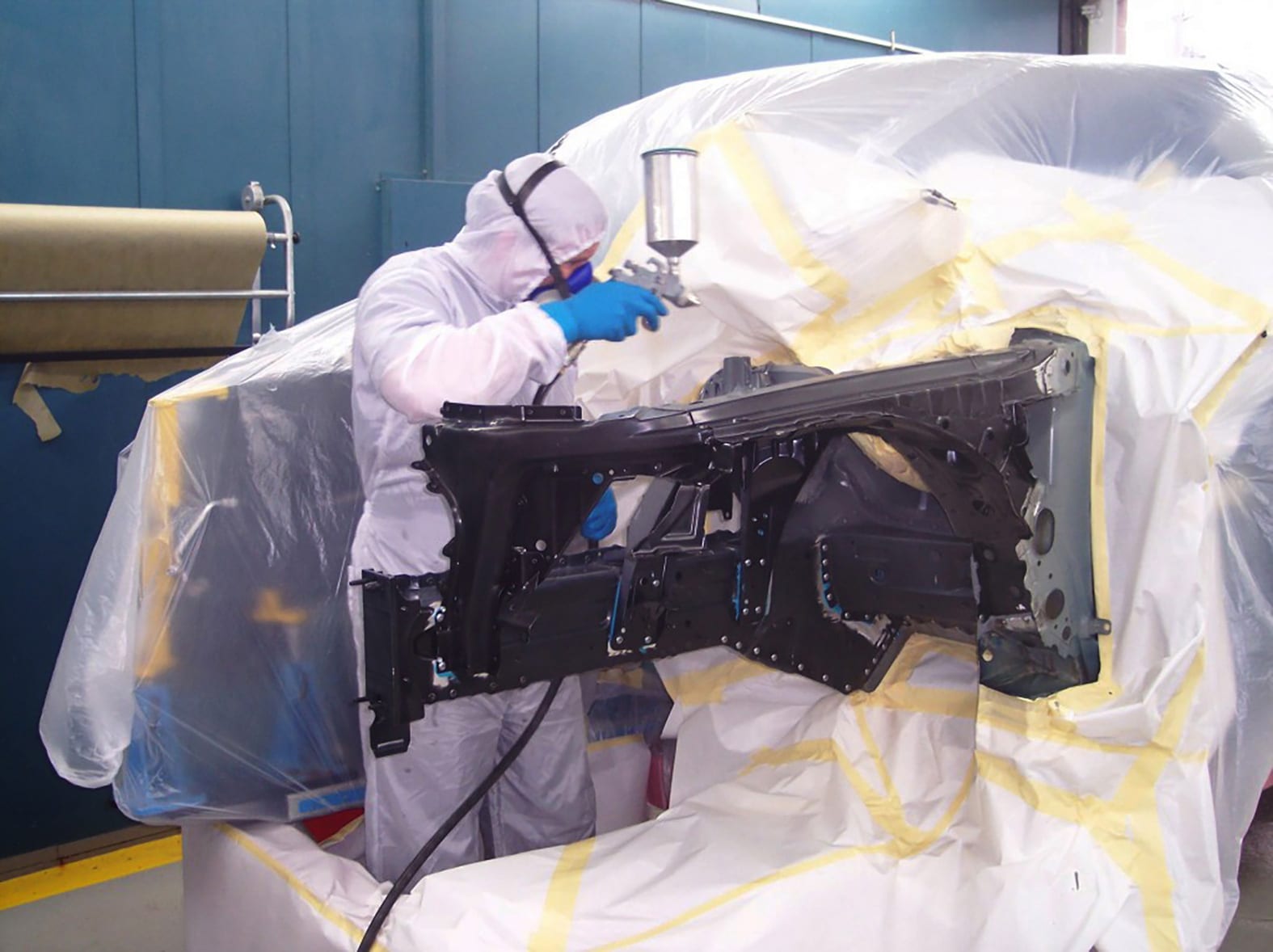 BMW 5 Series refinishing of installed front structural panel.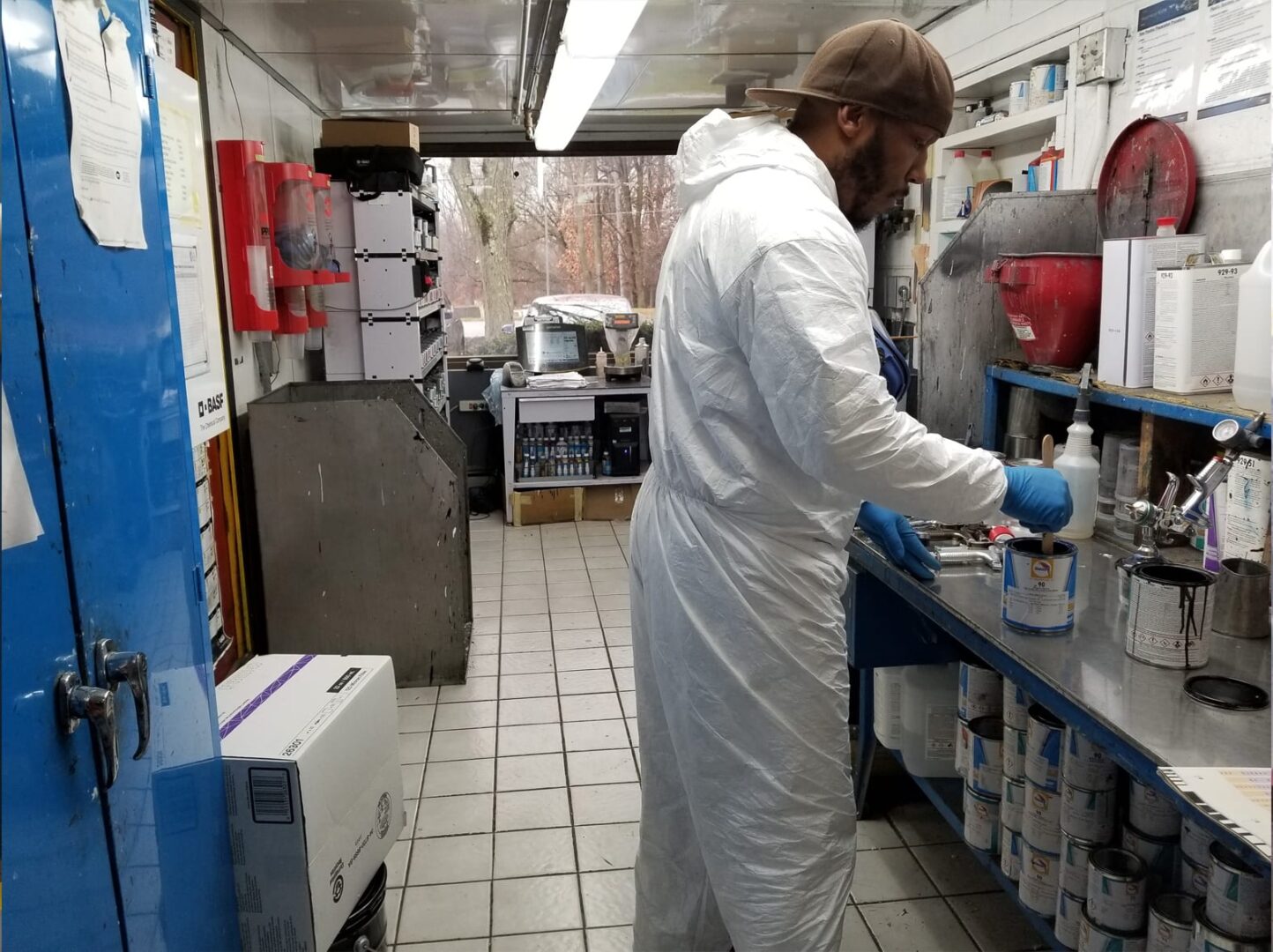 Our state of the art paint room. North State employs two of the top of the industry's painters, both have been working at North State for over 30 years.

REVO ACCELERATED INFRARED CURING SYSTEMS... The revolutionary technology cures filler and coatings quickly from the inside out, offering the fastest curing time in the industry for both prep and paint processes.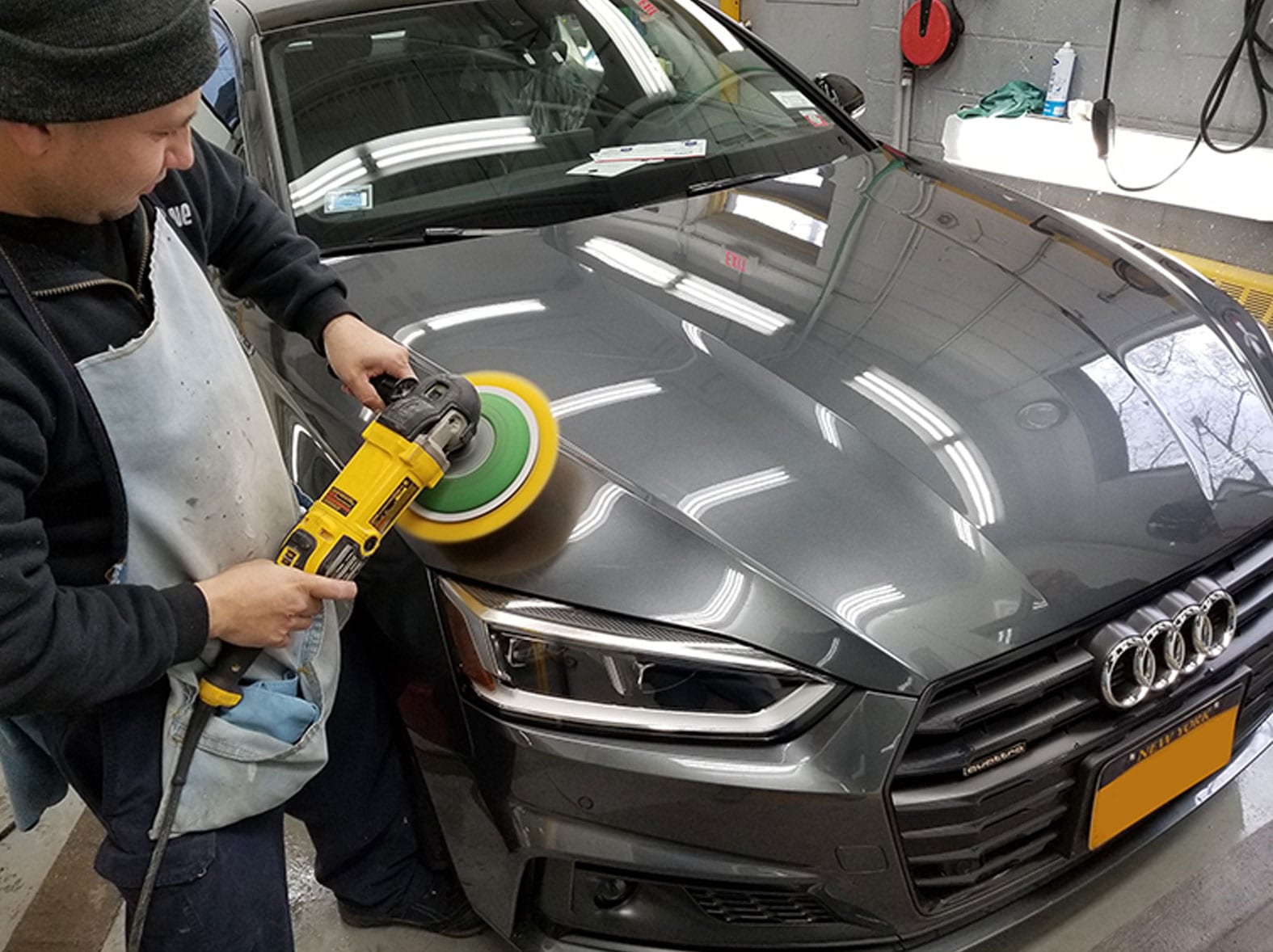 After the painting is done, our detail shop washes, vacuums, and buffs your auto for that showroom look.
Front End & Mechanical Repair
One of the most important functions in the repair process is the wheel alignment. North State performs all wheel alignments in-house. Our wheel alignment and suspension shop is equipped with the latest technologies to ensure a proper and precise wheel alignment. Today's sophisticated suspensions employ computerized steering, air ride suspension, all-wheel drive, and anti-lock breaking systems. It takes qualified technicians with the right training and equipment to ensure your vehicle will handle and perform safely after a collision repair has been completed.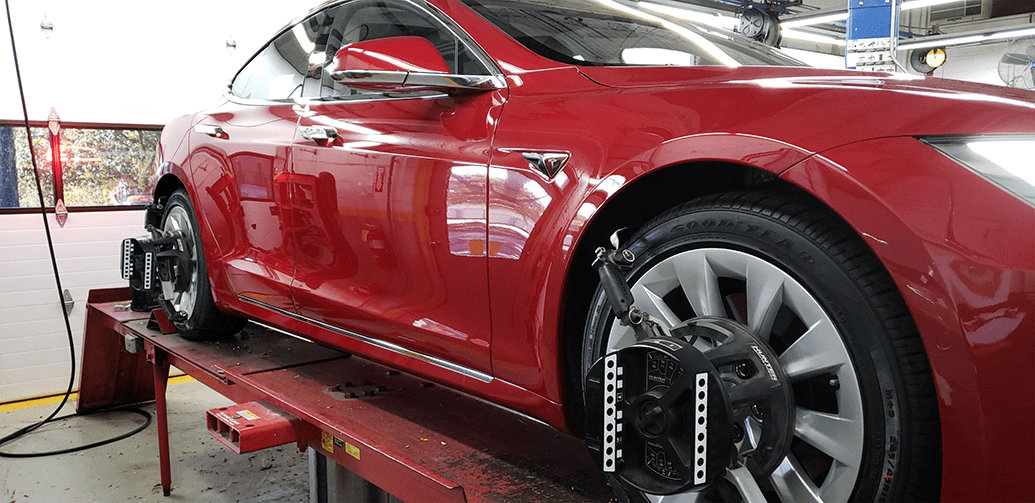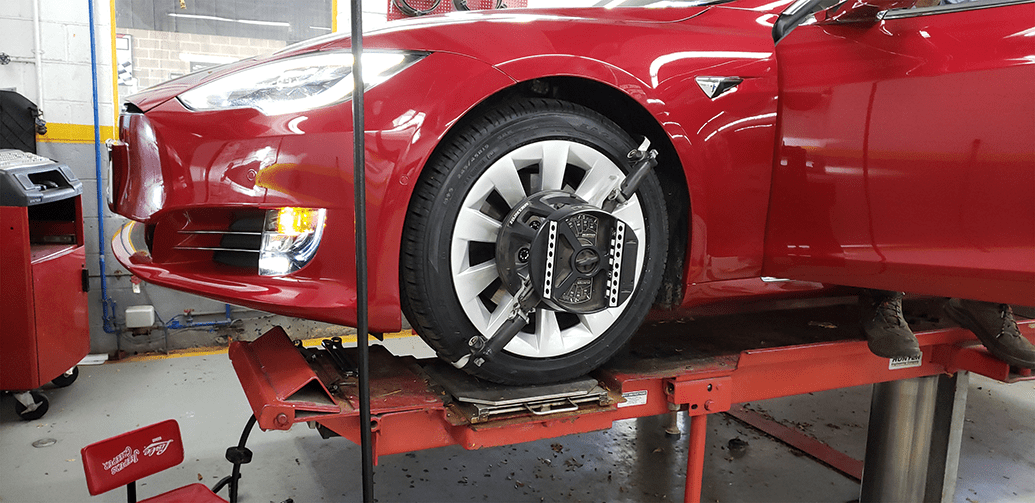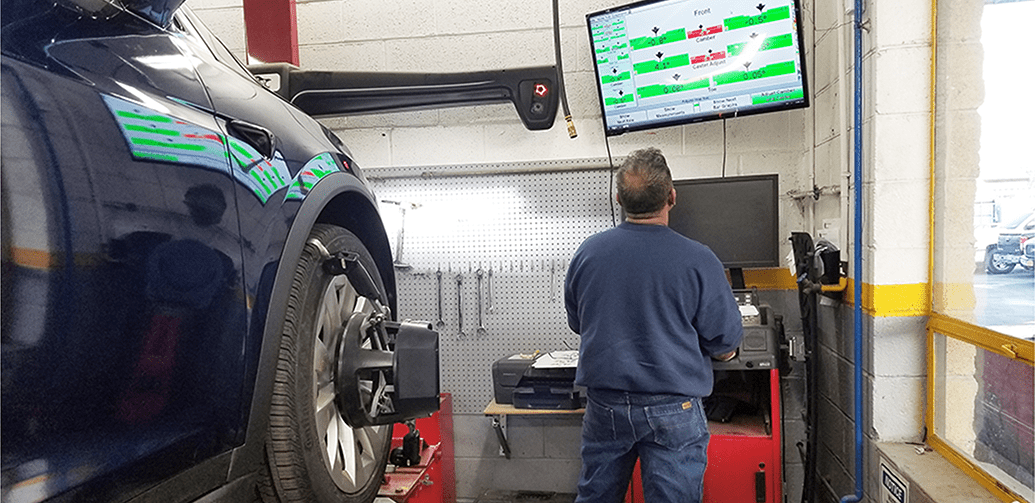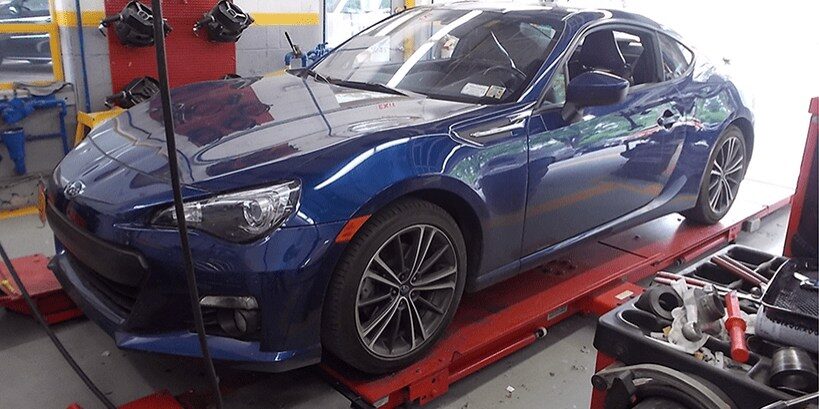 114 Green Lane, Bedford Hills, N.Y. 914-241-1234
Our Auto Mechanic Services
Autobahn Service and Sport is our mechanical division, conveniently located within our auto body shop at 114 Green Lane in Bedford Hills, NY. Autobahn Service & Sport fixes it all. If you drive it, we fix it. Autobahn offers competitive pricing along with the highest quality of repairs. Our Mechanics are I-Car and ASE certified.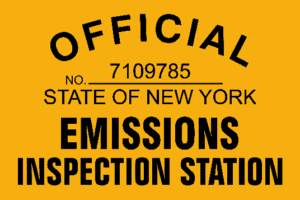 North State's Recommended Towing Company.
JV Auto Body Repair & Towing.